Description
Aquabot Filter Bag. PACKAGE OF 3 WITH FLAT RATE SHIPPING $19.99 ANYWHERE IN CANADA
Aquabot Filter Bag.  Genuine #8111 OEM (New factory Number – Was #8100) Fine Filter Bag – 2 Micron.  These bags were designed for Aqua Products.  They will not void the manufacturers warranty.  See what Aqua Products has to say here
Get the best price for a genuine Aquabot filter bag for your Aquabot® robotic pool cleaner at Watermaid.  Fast delivery in Canada with no cross border customs charges or delays.  Most of all, buy in Canada from Watermaaid with Warehouse Direct Prices, 40-50% Off.
THE FINE PRINT
SOLD IN A PACKAGE OF 3.  THIS GIVES YOU THE BEST PRICE (including shipping cost $23.33 each).
IF YOU WOULD LIKE TO PURCHASE ONLY A SINGLE BAG, THE COST IS $30.00 AND SHIPPING IS $20.00.  FOR SINGLE BAG PURCHASE WE ACCEPT PHONE IN ORDERS ONLY.  IF THIS IS WHAT YOU REALLY WANT TO DO (it seems like a bad idea) CALL 1-877-987-6243 🙂
When you clean the bag, never use detergent.  The detergent will plug the bag.  Rinse in Cold Water, No Dryer.
IMPORTANT INFORMATION!
Original Aquabot Filter Bags first of all filter to a level that surpasses your main filter therefore they remove fine particles that cloud your pool water.  Therefore removing this waste helps reduce and even prevent algae growth and that means less chemicals in you water, not to mention the associated chemical costs and your labor.
Don't be fooled by imitations that are being produced, sometimes masquerading as Aquabot filter bag Part# 8111.  If it says "Replacement" or "Fits", odds are it's probably not a genuine part.
A Geniune 8111 Aquabot filter bag will always carry a tag with "Aquaproducts" clearly visible so don't be fooled.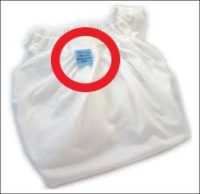 designed for: Aquabot, Aquabot Turbo, Aquabot Turbo Solo, Aquabot Turbo Remote Control, Aquabot Plus RC, Aquabot Turbo T, Aquabot Turbo T2, Aquabot Turbo T-Solo RC, Aquabot Turbo T4RC, Pool Rover, Pool Rover Junior, Pool Rover Plus, ThunderJet AG, ThunderJet IG, AquaJet, Aqua bot Turbo T-Jet, AquaMAX Junior HT, AquaMAX Junior Plus, AquaMAX Junior Plus Solo, AquaMAX Junior Plus RC, ULTRAMAX, and JetMAX Junior .